The Top 5 Best Thai Food
(one expat's opinion)
Thailand is world renowned for having some of the best cuisine in the world.
And if you've spent any time in Thailand, you know why.
You'll be hard pressed to find a Thai dish that isn't packed full of flavor.
Bland just isn't in the mix when it comes to Thai food.
Sweet, Sour, Salty, and Spicy are often all combined together in each-flavor packed bite.
Compared to other Asian cuisine I've tried (Vietnamese, Korean, Japanese, and Chinese) nothing really stacks up.
Indian food is the only Asian cuisine I've tried that is up there with Thai food in my opinion (but that's a post for another day).
So let's get down to this list.
As an expat who's lived in Thailand for many years, here are the top 5 most delicious Thai foods:
1. Tom Yum Soup (Hot and Sour Thai Soup)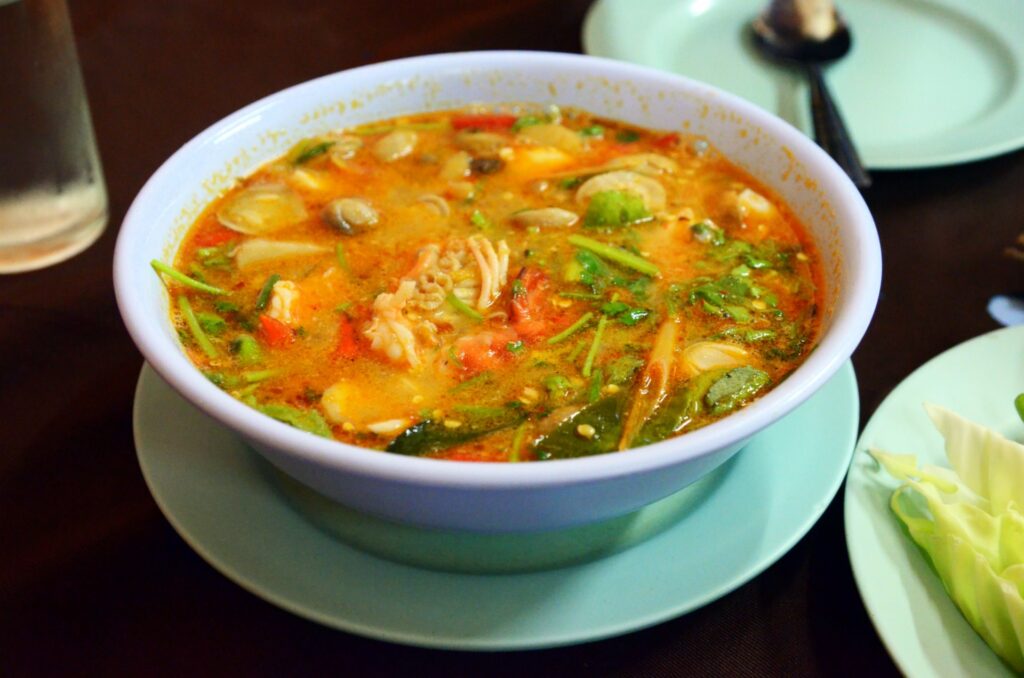 If you love sour flavors, Tom Yum will definitely be one of your favorites too.
Tom Yum is a spicy and sour soup that is extremely satisfying.
It has a hearty flavor because of 3 main herbs: lemongrass, galangal (similar to ginger), and kaffir lime leaves. I prefer Tom Yum Gai (that means the meat in it is chicken), but pork, beef, shrimp, and squid are other popular options in Tom Yum.
Sometimes it's served with coconut milk, but I find the coconut milk overpowers the natural tom yum flavor a bit so I usually go for the classic tom yum without coconut milk.
Like most Thai meals, it's usually eaten with rice.
2. Khao Soi (Northern Thai Curry Noodles)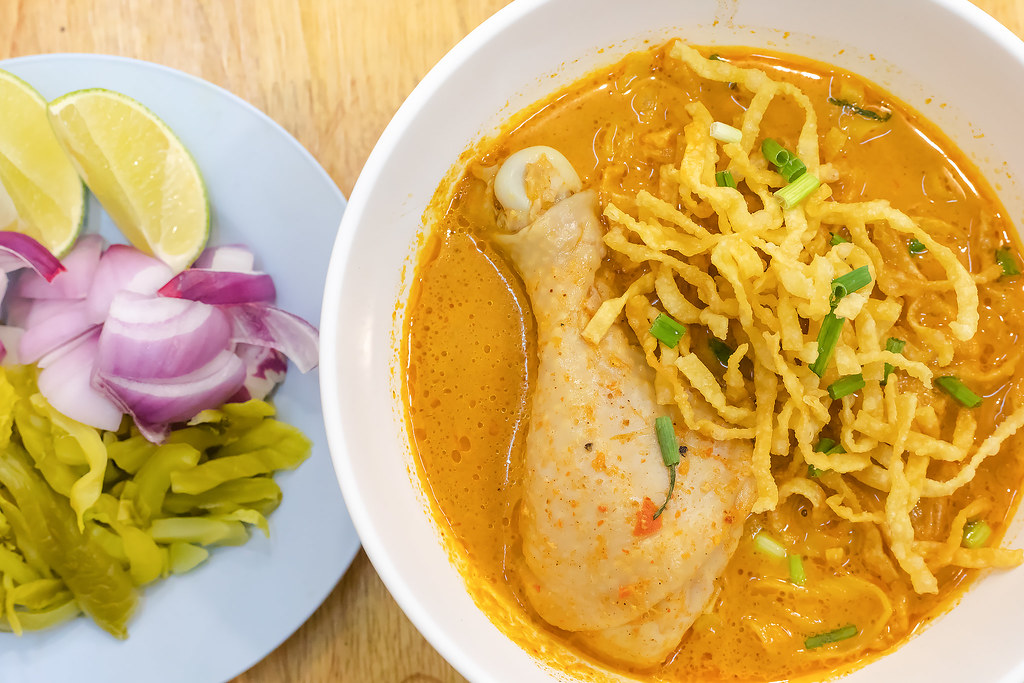 This noodle dish comes from the north of Thailand.
It's a thai style coconut curry/soup and it is absolutely mindblowing. Like true Thai food, there's so much flavor in every bite.
It's usually served with a chicken leg but other meats can be used.
But my favorite part is all the toppings. Khao Soi is traditionally topped with crispy noodles, shallots, pickled mustard greens, nam prik pao (a thai sweet/spicy chili sauce) and a fresh lime to squeeze into the curry.
There's something about the crunchy noodles combined with the tender chicken and rich soup that's so satisfying.
I've yet to meet anyone who's tried Khao Soi who hasn't become an instant fan.
3. Sai Krok Isan (Isan Fermented Sausage)
I still remember the first time I bought Sai Krok Isan from an old man pushing his cart around in Bangkok. I remember it so clearly because it was the first "street food" I ever bought in Thailand, and I was so shocked how cheap and delicious it was!
Each stick of the sausage only costed 10 baht ($0.29 at the time of this writing). And coming from America, there's basically nothing you can buy for that price besides maybe a stick of gum?
So I was absolutely shocked you could get such something so good for literally cents.
But besides the price and availability (you can find sai krok in markets and streets all over Thailand), Sai Krok Isan is super tasty.
It's a fermented sausage that's either filled with rice or glass noodles. And the longer it's fermented, the more of a sour flavor it gets (I think you're seeing a pattern here. I love sour thai food!)
Sai Krok Isan is usually served with raw cabbage, dried chilis or raw chillis, and ginger.
Although it's not really a full meal in itself, it's a perfect snack or add on to another dish.
4. Pad Kra Prow Kai Dow (Stir-Fried Holy Basil with a Fried Egg)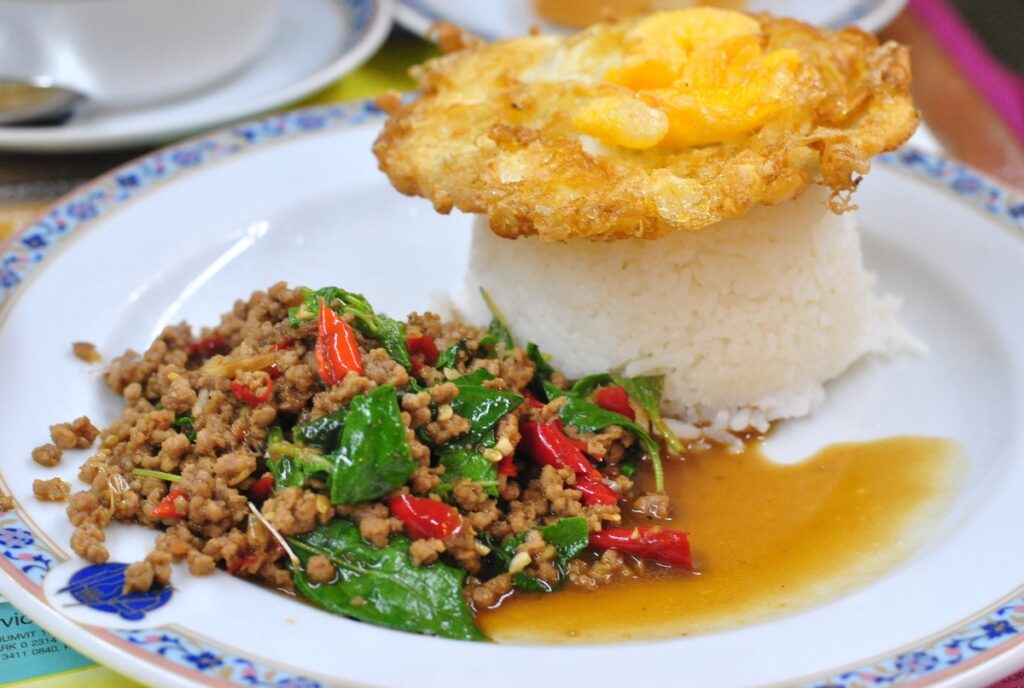 If you ask a Thai person what the national dish of Thailand is, more than likely, they won't say Pad Thai.
I'd be willing to bet that most Thais would say Pad Kra Prow is the REAL national dish of Thailand.
Like I said before, Thai foods never leave out the flavor. This dish is certainly no exception. Pad Kra Prow is made with holy basil, chilis, and meat (often minced). I usually go for minced pork, but chicken, beef, and even seafood are popular options too.
And the best part? The crispy fried egg with a runny yolk. It's an amazing feeling when you slice into the egg and the yolk spills into the rice. But despite the yolk being runny, the edges of the egg are crispy. If you've never tried a Thai style crispy fried egg, you really are missing out.
Out of all the foods on this list, Pad Kra Pow is the food I have eaten the most.
Why? It's available everywhere, it's a full meal, it's cheap, and best of all very delicious.
You have to be careful though. This one can be absolute fire though depending on how many chilis they use in it.
5. Gang Kiew Wan (Green Curry)
And finally we've come to the 5th item on the list, Green Curry.
When people abroad think of Thai food, this is one of the dishes that usually comes to mind. And green curry, when done right, actually deserves its accolades (unlike Pad Thai which is highly overrated in my opinion).
Green curry is a rich, slightly sweet curry with an amazing unique flavor. Its green color comes from large green chilis (which thankfully aren't that spicy).
Green Curry is usually made with chicken meat, chicken feet (better than you'd expect) or beef.
————————————-
So that closes out my list of the 5 best Thai foods.
Comment below to tell me if you agree with my list or not.
---
P.S.
If you want to learn Thai, ThaiPod101 is a great resource to get you started. They give you a bunch of free resources to level up your Thai language skills in the shortest time possible. If you are interested, please click the link below:
ThaiPod101.com - The Fastest Way to Learn Thai Guaranteed
---
Sign up to be notified straight away about new blog posts and new jobs in Thailand.